Feb 13, 2023 | Wear Red Canada in the Atrium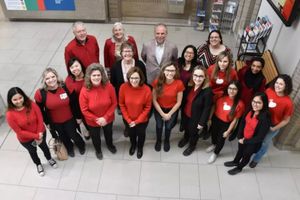 Visit Website
Hippocrates Atrium, 3330 Hospital Dr. NW, Calgary, AB. T2N 4N1
@LibinInstitute
Feb 13, 2023 | Wear Red Canada in the Atrium
Celebrate Wear Red Canada day with treats and activities - including a group photo - at the Foothills campus.
Date: Monday, February 13, 2023
Time: 10am - 2pm MST
Location: Hippocrates Atrium, 3330 Hospital Dr. NW, Calgary, AB. T2N 4N1
Website: libin.ucalgary.ca/community/get-involved/WearRed
Join us for sweet treats, a selfie station a group photo at 12:45 p.m. near the Hippocrates statue at Foothills campus.